HOLIDAY HARBOR MARINA & SUNSET GRILLE
IN MEMORY OF AMANDA CASTILLO
OUR BELOVED OFFICE MANAGER, AMANDA, WAS KILLED INSTANTLY IN A HEAD-ON COLLISION WHEN SHE WAS ON HER WAY TO WORK ON JULY 7.  SHE WAS THE ONLY OCCUPANT OF HER CAR THAT WAS HIT BY A TRUCK THAT CROSSED INTO HER LANE.
MANY OF YOU KNEW AND DEALT WITH AMANDA, EITHER IN THE OFFICE, ON THE PHONE OR BY MAIL.  SHE WAS THE CORNERSTONE OF HOLIDAY HARBOR MARINA OFFICE FUNCTIONS:  ALWAYS PLEASANT, PROFESSIONAL AND HELPFUL.  SHE WILL BE SEVERELY MISSED BY HER COWORKERS, OUR CUSTOMERS AND ANYONE WHO INTERACTED WITH HER.
AMANDA LEAVES BEHIND NOT ONLY A DEVOTED HUSBAND, RICHARD, AND TWO CHILDREN AGES 9 AND 13, BUT ALSO AN EMPTYNESS IN THE HEARTS OF ANYONE WHO KNEW HER.
AS WE SEARCH FOR A NEW OFFICE MANAGER WE HOPE YOU WILL BE UNDERSTANDING AS WE TRY TO DO WITHOUT AMANDA.  THANK YOU.
SCHOOL YEAR STARTING
With most school districts starting their year in August, we hope you are able to get on the water with the family before getting caught up in school and school-related activities.  A day of boating and swimming, followed by a family meal at Sunset Grille, would be a great way to cap off summer for the family. 
TAX-FREE SALES
Get Marina and Grille apparel without paying state sales tax during the annual Florida sales tax holiday.  Florida's back-to-school tax-free holidays for 2022 are Monday, July 25, through Sunday, August 7.  On those days you can buy most items of Marina and Grille apparel without having to pay the state 7.5% sales tax.  Shirts, hats and visors will be sold tax-free on those days.  This is an opportunity to get your souvenir apparel at a savings.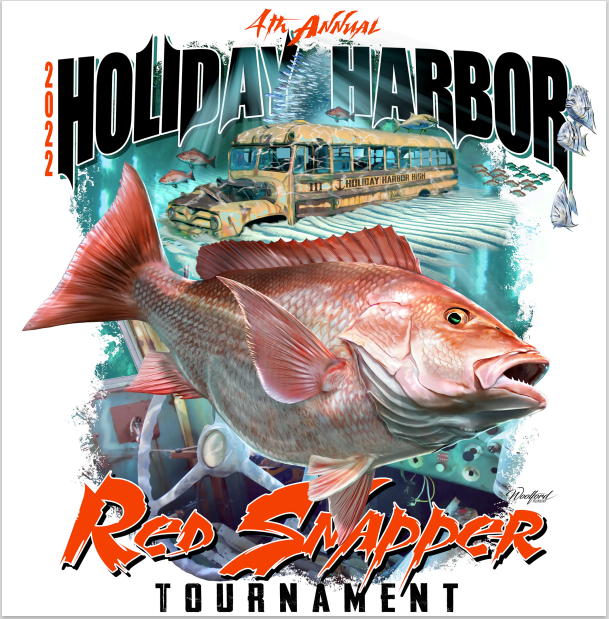 CUSTOMER RED SNAPPER TOURNAMENT RESULTS
"Thank you!" to our account customers who participated in our second annual red snapper tournament.  The tournament ended July 31, after this newsletter was distributed.  The winners of our 5 prize packages, and their prizes, will be posted on the website banner by August 2 and will be listed in the September newsletter.  You can also call the marina office, 850-492-0555, for the results.
We plan to host a similar event for the 2023 red snapper season and invite all of our account customers to plan now to participate.  We have extra 2022 tournament t-shirts available for purchase at our Main Marina and our North Store next to Sunset Grille.  The artwork on this shirt was done by Alan Woolford, a well-known local marine artist with Loggerhead Studios.
[See item below "RED SNAPPER SEASON REOPENING".]
Real-Time Weather Available
A new, automated, real-time weather station has been established on Perdido Key not far from Holiday Harbor Marina.  In addition to providing real-time weather conditions, it provides a live video feed of local weather conditions and other features (e.g., lightening strikes, accumulated rain, etc.).
The station feed can be accessed 24/7 at:
RED SNAPPER SEASON
Although the 2022 summer recreational season for red snapper in both Florida state and federal waters ended July 31, the season will reopen on the following weekend dates in the fall:
Although the 2022 summer recreational season for red snapper in both Florida state and federal waters ended July 31, the season is scheduled to reopen on the following weekend dates in the fall.  Please check the FWC website for any updates or changes regarding these dates:


Oct. 8-9 (Sat. & Sun)
Oct. 15-16 (Sat. & Sun)
Oct. 22-23 (Sat. & Sun)
Nov. 11-13 (Fri., Sat. & Sun – Veterans Day weekend)
Nov. 25-27 (Fri., Sat. & Sun – Thanksgiving weekend)
The recreational season is for those fishing for red snapper from private recreational vessels.  Complete information for Florida waters, including open dates, gear requirements, size requirements, harvest limits and other requirements, can be found at:
http://myfwc.com/fishing/saltwater/recreational/snappers/
The Fall dates could be excellent times to go after the big ones! 
LABOR DAY WEEKEND: IMPORTANT – For Our Storage Customers
The Labor Day weekend, September 2 through September 5, 2022 is another busy period at Holiday Harbor. In order to help assure everyone has an enjoyable boating experience, we ask that dry storage customers:
Call at least 2 hours before you want your boat placed in the water.
Recognize that there is not enough dock space at the Marina for all launched boats to stay in the water during the holiday period. Therefore, boats returned before closing will be returned to dry storage daily and boats returned after closing will be returned to dry storage early the next morning.
Know that all wet slips are rented on a quarterly or annual basis. Therefore, do not dock in
wet slips. If you return after closing and the launch area is full, please use the fuel dock or
the "T" dock used for docking at Sunset Grille. We will move your boat early the next
morning. If you leave your boat out overnight and do not wish it returned to dry storage
because you plan to use it the next day, please leave a message on the message board next
to the office door. We will do our best to accommodate your needs.
Keep the number of vehicles parking at the Marina to a minimum.
To ensure that Marina storage/wet slip customers, Freedom Boat Club users, and patrons of Sunset Grille are able to park, our parking restrictions will continue each weekend through Labor Day.
We appreciate customers' help in making the Labor Day holiday weekend a great time for all.
BLUE ANGELS HOMECOMING SHOW
The Blue Angels Homecoming Show is scheduled for November 11 & 12, 2022. It's not too early to plan for that weekend. 
We will provide updates about the event in future Newsletters and on our website.
BEFORE SCHOOL STARTS
School will be starting soon!  Celebrate the end of summer by bringing the family to Sunset Grille for lunch or dinner.  We have great food, great service and a fantastic atmosphere, including a boating-themed playground for the kids.  Come by car or by boat.
SCHOOL STARTING = FOOTBALL!
Are you ready for some FOOTBALL?  The 2022 Football season promises to be back to "normal".  The season kicks-off on Saturday, August 27.  Sunset Grille has 6 big-screen TVs showing all of your favorite games that are broadcast.  You can watch all of your teams compete while enjoying a delicious meal and drink.
PIE SPECIAL FOR AUGUST

The homemade pie special for August is Pina Coloda.   Yummmm!